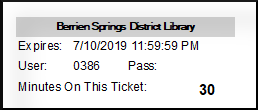 mConsole provides you with the tools to manage and accommodate guest users on your workstations.
Guest tickets can be created so as to easily provide computer service to people without accounts at your library.
These tickets can be created in bulk and also can be printed off to provide guests with a physical ticket.
These tools allow you to configure the guest tickets, even allowing you to set expiration dates on them.